Anping Spider Wire Mesh Co.,LTD
Tel:0086 318 7589992
Fax:0086 318 7589929
E-mail:
linda@spidergroup.cn
Web:
http://www.wiremeshs.net
Add:Industrial Park of Anping,Hebei,China
USA BRANCH
Add:7650 Mccallum Blvd National Trade Dallas, TX 75252 USA
Tel:1-214-202-2837
Fax:1-469-359-6746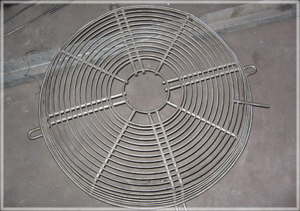 Fan Cover
publishers :Anping Spider Wire Mesh Co.,LTD
Release date :2011-6-27
browse : times
Promotion this product

We are a 9 year old organization, engaged in offering a highly functional range of flat type fan guard and lift guard, condenser coil guard, condenser fan guard, metal fan guards, motor mounting brackets, wire shelves for refrigeration, dome type fan guard. Our wide range of products also includes cone type fan guard, impeller guards, wire fan guards, tapered fan guard, fan guard/motor mounts and wire baskets.
We follow latest industry standards while designing, engineering and supplying our range of products. Our products are widely demanded amongst our clients based across U.A.E., Europe and other countries of the world. Some of our reputed clients are Voltas, Blue Star, Videocon, Godrej, E.B.M., Nadi Intl, Kirloskar, Crompton & Greaves, Emerson Network Power and many more.
If you have any inquiry,pls send me the drawing.