Anping Spider Wire Mesh Co.,LTD
Tel:0086 318 7589992
Fax:0086 318 7589929
E-mail:
linda@spidergroup.cn
Web:
http://www.wiremeshs.net
Add:Industrial Park of Anping,Hebei,China
USA BRANCH
Add:7650 Mccallum Blvd National Trade Dallas, TX 75252 USA
Tel:1-214-202-2837
Fax:1-469-359-6746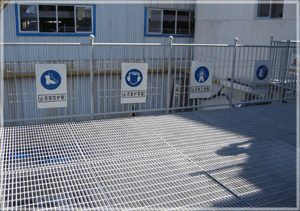 Steel Grating
publishers :Anping Spider Wire Mesh Co.,LTD
Release date :2011-6-27
browse : times
Promotion this product

Steel Grating
Steel grating is extremely versatile and can be used in a wide range of applications.
Some of the common uses include:
• Flooring
• Stair treads
• Sun shades
• Drain covers
• Security screens
• Manhole covers
• Mezzanine flooring
• Earth mats
• Shelving
• Stanchions (hand rails)
Steel grating Limited manufactures three different types of steel grating, each with different specifications and suitability.
Series 1: 30mm centres
Suitable for heavy loading
Available in mild steel (forge welded or twistlock) and aluminium (twislock)
Series 2: 40mm centres
Series 2 grating is available in both forge bar and twistlock. The lightweight, economical design of the Series 2 grating makes it perfect for walkways, fixed platforms, stairways and ladders. Available in twistlock (mild steel and aluminium)
Series 3: 60mm centres
Series 3 grating is mainly used in the mining industry as it minimises the build-up of spillages on the flooring. The openings let small matter fall through while larger matter is caught on the grating. Series 3 is a very lightweight design and is not recommended for high-impact loads.
Load Bar Direction and spacing
It is important to check the direction of the load bars when ordering steel grating as the load bar must take the weight on top of the support to prevent collapse.
Size:
The most common size bar thicknesses range from 20mm up to 50mm. If a larger size is required please contact us.
Standard Sheet Sizes:
Our grating is manufactured to the following sizes. From this we can cut to any size to suit your requirements.
• Mild steel - 5800mm (load bar) x 1000mm
• Aluminium - 5000mm (load bar) x 1000mm
Finishes:
Steel Grating Limited products can come in a variety of finishes:
• Mild Steel - Black (untreated) or galvanized
• Aluminium - Mill, anodized or powder coated
Availability:
At Steel Grating Limited it is important to us to get the job completed within your required timeline. Sometimes deadlines can be quite tight when requested, but we can go the extra distance to ensure you receive the job on time.