Anping Spider Wire Mesh Co.,LTD
Tel:0086 318 7589992
Fax:0086 318 7589929
E-mail:
linda@spidergroup.cn
Web:
http://www.wiremeshs.net
Add:Industrial Park of Anping,Hebei,China
USA BRANCH
Add:7650 Mccallum Blvd National Trade Dallas, TX 75252 USA
Tel:1-214-202-2837
Fax:1-469-359-6746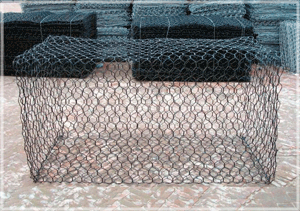 Gabion
publishers :Anping Spider Wire Mesh Co.,LTD
Release date :2011-6-27
browse : times
Promotion this product

Gabion
Gabions are rectangular cages made of hexagonal double-twist wire mesh filled with appropriately sized rock or quarry stone. The wire used is a mild tensile steel wire, class A galvanized to SABS 675 of 1993.
The gabions are sub-divided into cells by inserting diaphragms which are mesh panels with the same characteristics as the external sides, spaced 1m from each other to give the structure strength and facilitate it's speedy construction.
The galvanized wire, before being woven, can be coated with a special PVC (polyvinyl chloride) coating 0.5mm thick. This additional coating gives full protection from corrosion in marine or heavily polluted environments.
THE ADVANTAGES
1. FLEXIBLE
Superior to rigid type structures. The hexagonal mesh construction permits natural adjustment to varying conditions of earth settlement without causing fracture or collapse of the structure.
2. DURABLE
Gaps between the stones silt up naturally as time passes. Silting supports the growth of grass and plants which serve as a bonding agent for the stone.
3. PERMEABLE
A Gabion structure allows water to pass through, water pressure cannot build up behind it and the structure is continuously drained.
4. STRONG
The flexibility of the Gabion structure provides the inherent strength to withstand and dissipate pressures exerted by water and earth masses.
5. ECONOMICAL
Filling materials are usually found on or near the site. No structural maintenance is needed and foundation work is usually unnecessary.
6. NATURAL APPEARANCE
Natural stone makes the structure aesthetically pleasing especially when subsequent vegetation growth takes place.
7. SIMPLE
Unskilled labour can be used for quick assembly.
8. MAINTENANCE
Gabion structures are easily maintained using additional mesh or grouting.
9. FUNCTIONABLE
Once the structure is built there is no waiting period ?it functions immediately.
10. EXTENDABLE
Extensions are simple. Additional units are simply attached to the existing ones.
STANDARD GABION SIZES

| | |
| --- | --- |
| 1 x 1 x 1 | 1,5 x 1 x 1 |
| 2 x 1 x 1 | 3 x 1 x 1 |
| 4 x 1 x 1 | 2 x 0,5 x 0,5 |
| 2 x 1 x 0,5 | 3 x 1 x 0,5 |
| 4 x 1 x 0,5 | 6 x 2 x 0,5 |
To suit site conditions the manufacture of other custom made sizes is possible.
Class A galvanized or with an additional PVC coating.
NOTES TO DESIGN ENGINEERS
Today, Gabions are recognized as a standard civil engineering material and as such, are specified on most civil contracts. A neat, well-defined structure is not only aesthetically pleasing, but is the first step towards a sound and durable structure.
We have found in the past, that of the few structures that have failed, most failures were due to poor construction. Great care should be exercised to ensure that